Winshape
Monday, July 16, 2018, 7:45 AM - Friday, July 20, 2018, 4:45 PM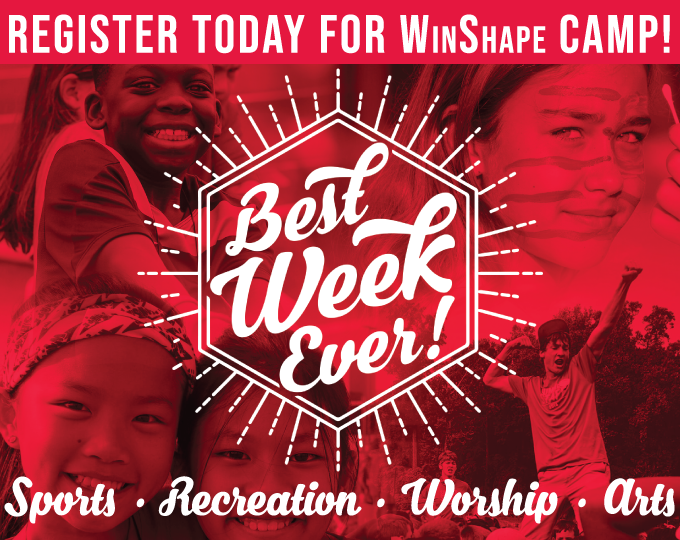 WHAT IS WINSHAPE?
Whether you like soccer, science, or anything in between, there is something for everyone at WinShape Camps for Communities! Come be a part of this incredible adventure where we combine sports, recreation, arts, Bible study and worship into one incredible week. WinShape Camps provides a professionally trained staff to help create the most meaningful, unforgettable and fun-filled day camp experience you'll find anywhere... right at home in your own community!
When: July 16-20, 2018 | 7:45am-4:45pm daily
Who: Completed 1st-9th Graders
Cost: $214/camper Scholarships available for those who qualify. Additional information below.
REGISTRATION IS OPEN NOW!
The cost of camp is $214. A non-refundable $50 deposit is required at the time of registration; this deposit is included in the total cost of camp. You may go back into your account at any time and as many times as you wish to make payments until your balance is paid in full, but no later than a month before camp begins. Automatic payments on assigned deadlines can be set up if you pay by credit card.
Did you know? Families registering multiple children automatically get a 10% sibling discount after the first child is registered!
CLICK HERE TO LEARN MORE ABOUT WINSHAPE CAMPS FOR COMMUNITIES
CLICK HERE TO LEARN MORE ABOUT WINSHAPE DAY CAMP AT RHCC
LIKE OUR WINSHAPE SITE PAGE ON FACEBOOK!
SCHOLARSHIP INFORMATION
At Rolling Hills, we don't want a family's financial situation to prevent any child from having an amazing camp experience. Scholarships are available. To apply for financial assistance, please contact Jenn Hendrich.