The Gathering | Morning
Every Wednesday, from 09/04/2019 to 05/06/2020, 9:30 AM - 11:30 AM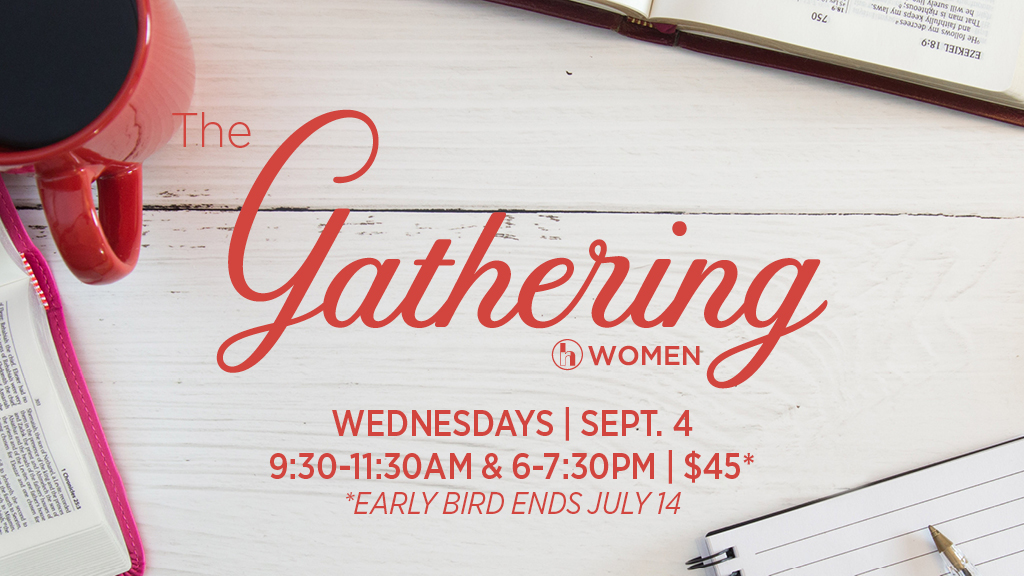 Growing Women in God's Word
Every Wednesday morning, throughout the school year, the women in our community will gather for a time of food, fellowship, worship and studying God's Word. We meet from 9:30-11:30 am and have three track options available for you!
Our very own Kelly Minter will be taking us through an in-depth study of the Bible this Fall. She will be teaching from a different book of the Bible in the Fall and the Spring. This track is available to ALL women regardless of age or stage. You will hear Kelly teach live each week and then have the opportunity to meet with your small group for a time of discussion. We will do an eight-week winter session around a different study and then Kelly will return for 6 weeks in the Spring.
"Mom Life" is the track we have developed for moms who are looking to study Biblical fundamentals of parenting. In this track, you will be reading through a book or a study. You will spend time in your small groups discussing what it looks like to trust God and put Him at the center of your parenting.
The "Legacy" track is for grandmothers who desire to spend more time in prayer and in deep discussion on how to impact the generations for Christ. This group will study through a curriculum provided by their leaders and will meet with a small group each week.
Schedule:
Breakfast & Fellowship: 9:30-9:50 am
Your track: 10-11:30 am
The start date is September 4, 2019, and we follow the Williamson County School calendar. There is a $55 registration fee to cover materials for the year. Scholarships are available. Daytime childcare is now closed.
Available Tracks:
1. Kelly Minter will lead a study on The Sermon on the Mount
2. Mom Life - Paul David Tripp's Parenting: 14 Gospel Principles That Can Radically Change Your Family
3. Legacy - A group of grandmothers who desire to spend time in prayer and discussion on how to impact generations

To register, please contact Lele Griesheimer.