The Gathering | The Faithful
Every Wednesday, 10:00 AM - 11:30 AM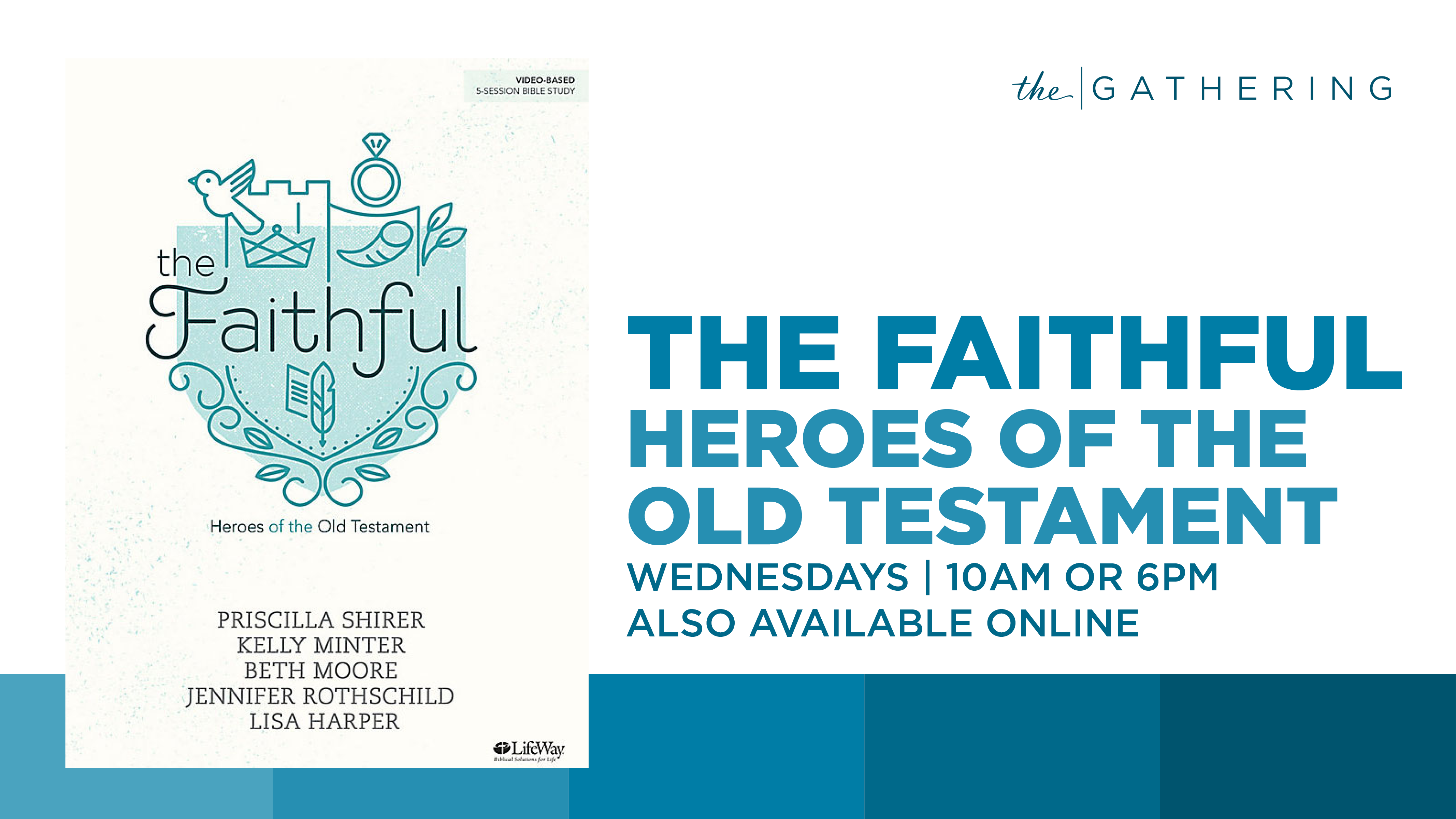 IN-PERSON GROUPS
JUNE 1–29 | 10–11:30am -or- 6–7:30pm
STUDY: THE FAITHFUL: HEROES OF THE OLD TESTAMENT
The Faithful study features 5 stand alone sessions taught by Beth Moore, Priscilla Shirer, Lisa Harper, Kelly Minter, and Jennifer Rothschild. We will explore crucial moments in the lives of five Old Testament figures—Queen Esther, Gideon, Hosea, Malachi, and Nehemiah.
Strengthen your faith as you walk alongside these larger-than-life figures from the Old Testament who all chose to obey God no matter the circumstances. These stand alone sessions are perfect for our busy summer season!
There is no registration fee for this session, but you will need to purchase your own copy of The Faithful study guide. You may purchase from Lifeway or on Amazon.
This session will meet in homes, rather than on our church campus. In-home locations will be determined once registration is closed and we will be in touch to let you know the location of your group. Groups will be formed by neighborhood and you can also request to be in a group with a friend if you desire. Use the link below to register!
ONLINE GROUP
JUNE 1–29 | OPTIONAL ZOOM WEDNESDAYS 12–1PM | ONLINE
THE FAITHFUL: HEROES OF THE OLD TESTAMENT
Whether you're a part of our Online Campus, can't make our in-person Bible study times, or you simply prefer being a part of an online group, all are welcome here! We will be walking through The Faithful, the same study detailed above.
Here's how it's going to work:
We have a Facebook Group created exclusively for the women who are joining this study. In the Facebook Group, we will connect with one another, share links and other content, post interactive questions and takeaways from the study, and more! Within the Facebook Group, we'll share the Bible study videos that you will watch each week (before Wednesday). Each Wednesday at 12pm, starting on June 1, we'll post a Zoom link where those who are a part of the study will hop on, discuss the study, and build community with one another. Throughout the week, we'll check in through the Facebook Group and stay connected, too. To be a part of the study, the Zoom Group is not mandatory, so feel free to join us for both the Facebook Group and the Zoom, or one and not the other!
Simple Three-Step Instructions & You're Ready:
Register for the Online Group

here

.

Join our Online Bible Study Facebook Group

here

. This is where our weekly Zoom Group link will be shared, where we will have ongoing discussion questions, where you can share private prayer requests with other women in our group, and more.

Purchase your copy of The Faithful study guide. You may purchase

from Lifeway

or

on Amazon

.
We can't wait to start this study with you!