WOMEN'S MINISTRY IS HERE TO
HELP WOMEN GROW TO BE MORE LIKE JESUS.
FIND

ALL

THE IMPORTANT INFORMATION YOU NEED TO KNOW ABOUT UPCOMING WOMEN'S MINISTRY EVENTS HERE.
---
We are here for you! If you need information, have questions or ideas, or have a specific prayer request,
please contact Miranda Kokes, Women's Ministry Director.
---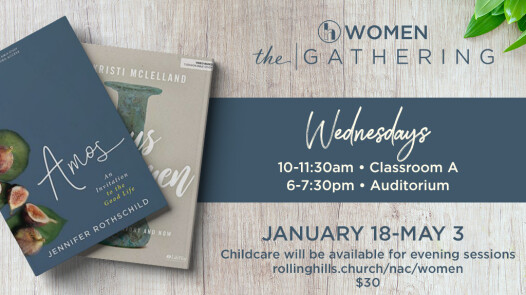 ADULT MINISTRY • WOMEN
THE GATHERING
WEDNESDAYS | 10-11:30AM OR 6-7:30PM | IN-PERSON
Amos Study Jesus & Women Study
"The Gathering" is Rolling Hills Women's weekly Bible Study. It is for women of all ages and stages! Our meetings include a group bible study, fellowship, and prayer. Childcare is available for evening sessions. We hope to see you there!
For questions or more information please contact our Women's Pastor, Miranda Kokes.
AMOS STUDY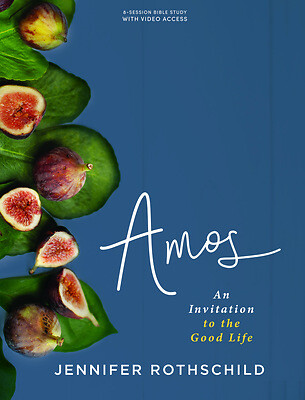 AMOS
BY JENNIFER ROTHSCHILD
Amos is often called a prophet of doom. And when you begin to read his prophecy, it doesn't take long to realize that nickname fits. On the surface, his prophecy doesn't sound like a happy formula for the good life. However, every condemnation he gives serves as an invitation, a cry for us to "seek God and live" (Amos 5:4). You'll be invited to live assured, faithful, chosen, humble, justly, prayerful, and hopeful. This kind of living will bring us and others around us peace and true prosperity.

Amos is promoting the God life, and, the God life is the good life!
JESUS & WOMEN STUDY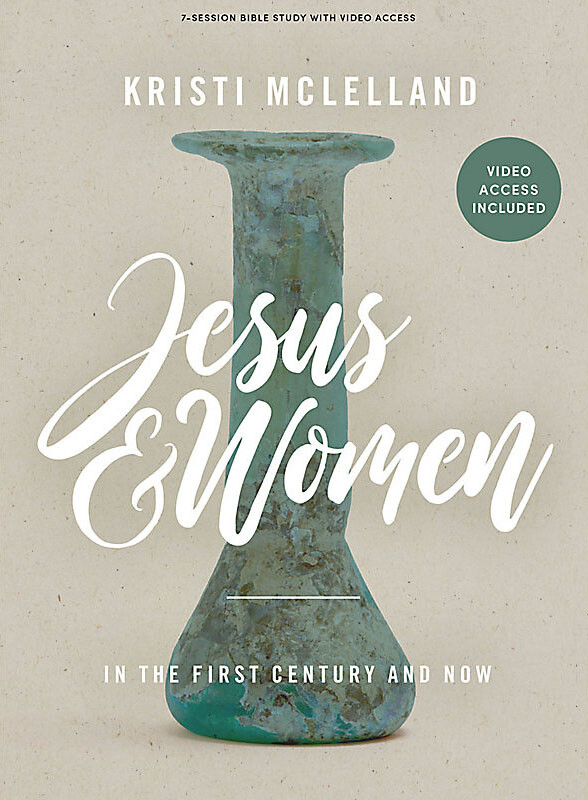 JESUS & WOMEN
BY KRISTI MCLELLAND
Imagine walking the dusty roads of Galilee with Jesus of Nazareth—braving jostling crowds just to touch the edge of His cloak and hear Him say, "Take heart, daughter, your faith has healed you."

Those words, once meant to comfort a hurting woman's soul thousands of years ago, were also meant for you.

Join biblical culturalist Kristi McLelland on those dusty roads as she transports you back to Jesus' world, following in the footsteps of the women who came face-to-face with the Living God. Over 7 sessions, examine the historical and cultural climate of first-century Middle Eastern society to not only understand Jesus more deeply but to fuel your worship of Him today.
---
FOLLOW US ON SOCIAL
Follow us on Facebook and Instagram @rhwomen for the latest happenings with RH Women!
---
DISCIPLESHIP • WOMEN • LIFE
AS YOU GO
"As You Go" is our RHCC Women's podcast, meant to encourage and disciple women who are daily trying to follow Jesus while balancing all of the things in their lives like work, family, and mental and physical health. This Summer, Rolling Hills is diving into the book of Romans in our Masterclass: Romans sermon series. Here at As You Go, we wanted to do the same! Romans is a book for all believers, no matter what stage of life or faith you are in. We are excited to see what encouragement Romans has for us!
Join Kathy Koon, Miranda Kokes, and other women of the Rolling Hills staff for this special Summer Season of "As You Go"! It's going to be filled with interviews with incredible women who have tons of wisdom, fun stories, and a whole lot of faith. Our episodes will drop every Thursday, so follow @rhwomen on Instagram to get regular updates on our new episodes, and check out the podcast wherever you listen!
---