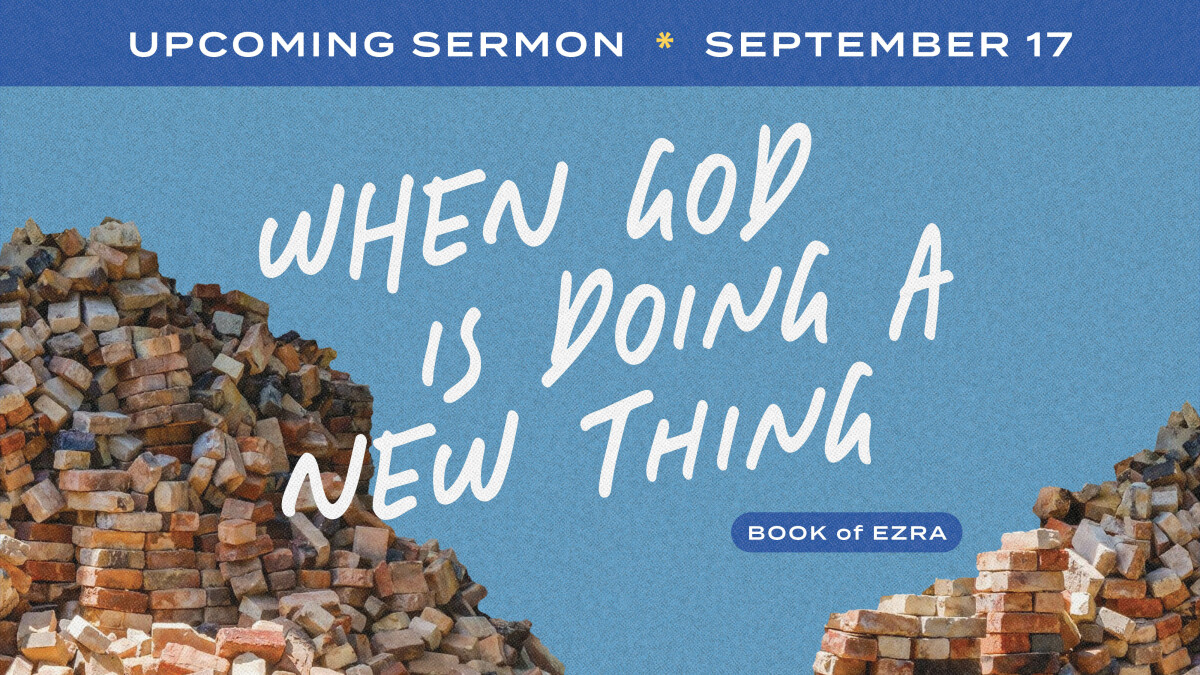 Series Home
Sermon Archive
Sermon Info
Summary
God is always working! God is always doing a new thing! Do you take the time to see it and position yourself in a place to be used by Him? So many stories in the Bible, including the book of Ezra, don't end tied up in a nice, neat package. Rather, these God-ordained moments and snapshots show us the need to continue placing our hope in Him, and they renew our passion to expect and anticipate more and more what He is doing. These stories also make us look forward with great joy to the day when He will call us all home to be with Him! Thank you, God, for the incredible stories you are writing! We can't wait to see what you have in store for us next!
Content
What do we do after EXILE?
He carried into exile to Babylon the remnant, who escaped from the sword, and they became servants to Him and His successors until the kingdom of Persia came to power. 2 Chronicles 36:20
REVISIT our view of God's PLAN and His POWER.
In the first year of Cyrus king of Persia, in order to fulfill the word of the Lord spoken by Jeremiah, the Lord moved the heart of Cyrus… Ezra 1:1
RECOMMIT our ways to know and follow Him…
…began to build the altar of the God of Israel to sacrifice burnt offerings on it, in accordance with what is written in the Law of Moses the man of God. Ezra 3:2
Regardless of opposition and FEAR.


Despite their fear of the peoples around them, they built the altar on its foundation and sacrificed…

Ezra 3:3




The direct result is WORSHIP.


With praise and thanksgiving they sang to the Lord: "He is good; His love toward Israel endures forever."

Ezra 3:11
REFORM the parts of our lives that are out of step with His will…
Which means knowing His WORD…


For Ezra had devoted himself to the study and observance of the Law of the Lord, and to teaching its decrees and laws in Israel.

Ezra 7:10



And REPENTING of sin…


Then, at the evening sacrifice, I rose from my self-abasement, with my tunic and cloak torn, and fell on my knees with my hands spread out to the Lord my God and prayed…

Ezra 9:5
And, more than anything, REMEMBERING grace.


But now, for a brief moment, the Lord our God has been gracious in leaving us a remnant and giving us a firm place in His sanctuary, and so our God gives light to our eyes and a little relief in our bondage.

Ezra 9:8
Ezra is a "finally… but still, not yet" PROMISE, REMINDING us who God is and what He miraculously does.
After the sixty-two 'sevens,' the Anointed One will be put to death and will have nothing. Daniel 9:26
Now it is God who makes both us and you stand firm in Christ. He anointed us, set His seal of ownership on us, and put His Spirit in our hearts as a deposit, guaranteeing what is to come. 2 Corinthians 1:21-22