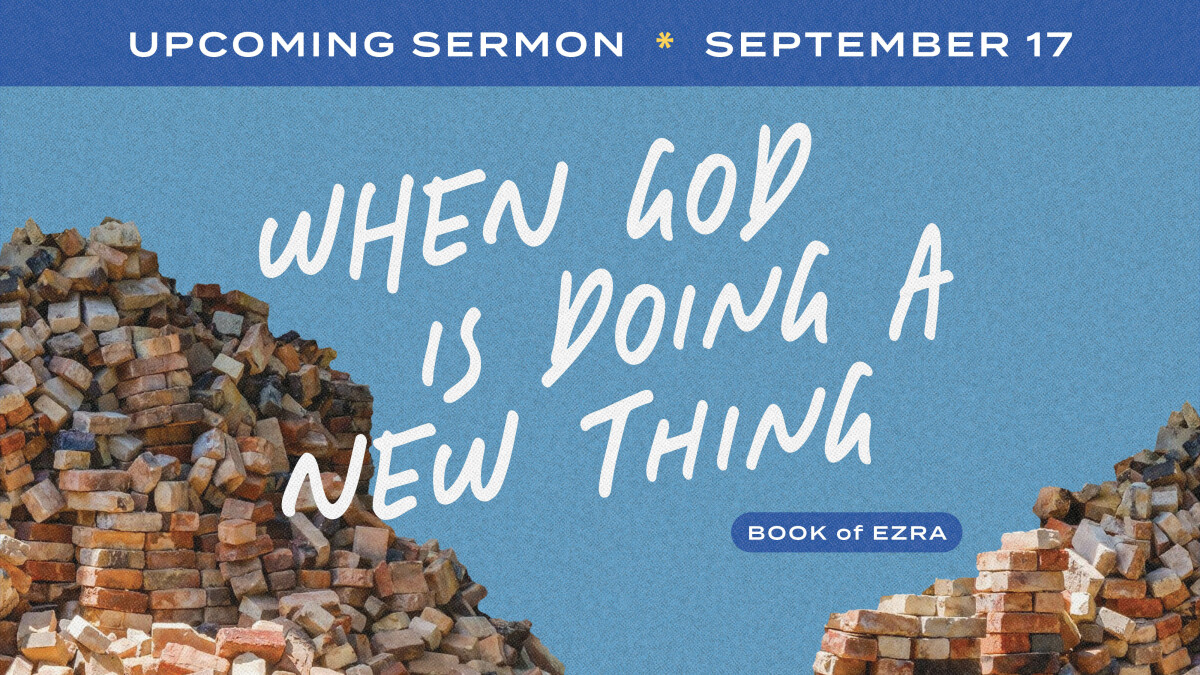 Series Home
Sermon Archive
Sermon Info
Summary
God is always working! God is always doing a new thing! Do you take the time to see it and position yourself in a place to be used by Him? So many stories in the Bible, including the book of Ezra, don't end tied up in a nice, neat package. Rather, these God-ordained moments and snapshots show us the need to continue placing our hope in Him, and they renew our passion to expect and anticipate more and more what He is doing. These stories also make us look forward with great joy to the day when He will call us all home to be with Him! Thank you, God, for the incredible stories you are writing! We can't wait to see what you have in store for us next!
Content
With praise and thanksgiving they sang to the Lord: "He is good; His love toward Israel endures forever." And all the people gave a great shout of praise to the Lord, because the foundation of the house of the Lord was laid." Ezra 3:11
When God is doing a new thing…
1. Expect confusion.
But many of the older priests and Levites and family heads, who had seen the former temple, wept aloud when they saw the foundation of this temple being laid, while many others shouted for joy. Ezra 3:12
2. Expect discouragement.
Then the peoples around them set out to discourage the people of Judah and make them afraid to go on building. Ezra 4:4
3. Expect opposition.
They bribed officials to work against them and frustrate their plans during the entire reign of Cyrus king of Persia and down to the reign of Darius king of Persia. Ezra 4:5
4. Expect His hand to be with you.
Praise be to the Lord, the God of our ancestors, who has put it into the king's heart to bring honor to the house of the Lord in Jerusalem in this way and who has extended His good favor to me before the king and His advisers and all the king's powerful officials. Because the hand of the Lord my God was on me, I took courage and gathered leaders from Israel to go up with me. Ezra 7:27-28
5. Expect spiritual growth.
There, by the Ahava Canal, I proclaimed a fast, so that we might humble ourselves before our God and ask Him for a safe journey for us and our children, with all our possessions. Ezra 8:21
6. Expect confession.
While Ezra was praying and confessing, weeping and throwing himself down before the house of God, a large crowd of Israelites—men, women and children—gathered around him. They too wept bitterly. Ezra 10:1
7. Expect hope.
...the Lord delights in those who fear Him, who put their hope in His unfailing love." Psalm 147:11