One of the most asked questions during this time is,
HOW CAN I HELP?
Below is a list of opportunities you can participate in as we continue to
Reach Out, Grow Up and Give All
in our homes, neighborhoods and throughout our city.
LEARN MORE ABOUT
ONE GENERATION AWAY NEIGHBOR CARD 24/30 PRAYER
---

We are partnering with One Generation Away to help our community while still practicing safe social distancing. Here are some practical ways you can help get food and resources to families that need it during this uncertain time.
DONATION
One Generation Away is running low on specific items for their food bags for families. An easy way to help as a family and make sure these food bags are fully resourced is to donate.
ITEMS NEEDED:
-Boxes of Mac and Cheese (NO single servings)
-Canned Fruit (Metal cans only)
You can drop these off inside the front door of the Franklin Campus.
PACK BAGS
MARCH 31 & APRIL 2
One Generation Away needs families of 4-5 people to come pack food bags on March 31 and April 2. They have requested one family at a time to come and serve. You will have space to yourself for social distancing. There are only 4 spots available this week and they are first come first serve. We will open up more weeks if there is a need.
DISTRIBUTE FOOD
APRIL 4 | 8AM-12PM
(or until resources are gone)
JOHNSON ELEMENTARY SCHOOL
815 Glass Lane, TN 37064 United States
15,000-25,000 lbs. of food will be dropped off in a parking lot, where volunteers will be waiting to sort and distribute it all to our neighbors in need. We pride ourselves on providing fresh and healthy foods, as well as things that are easily prepared and cooked. We do not ask questions or have requirements for people who can receive food.
NO REGISTRATION NEEDED TO VOLUNTEER. JUST SHOW UP.
Distribution starts at approximately 9:30 am and ends at approximately 11:30 am. Food is distributed on a first-come, first-served basis. We serve outside, rain or shine.
---

We've got a saying at Rolling Hills - Love. Everyone. Always. In times like these, it's even more important to let others know we care. Below is a card you can print at home and use to show your neighbors you love them. Simply print, fill in your information and drop them on a neighbors door. As always, we want to take every precaution to keep you and our community safe. Please follow all CDC guidelines if you think you may be sick and #StayHome.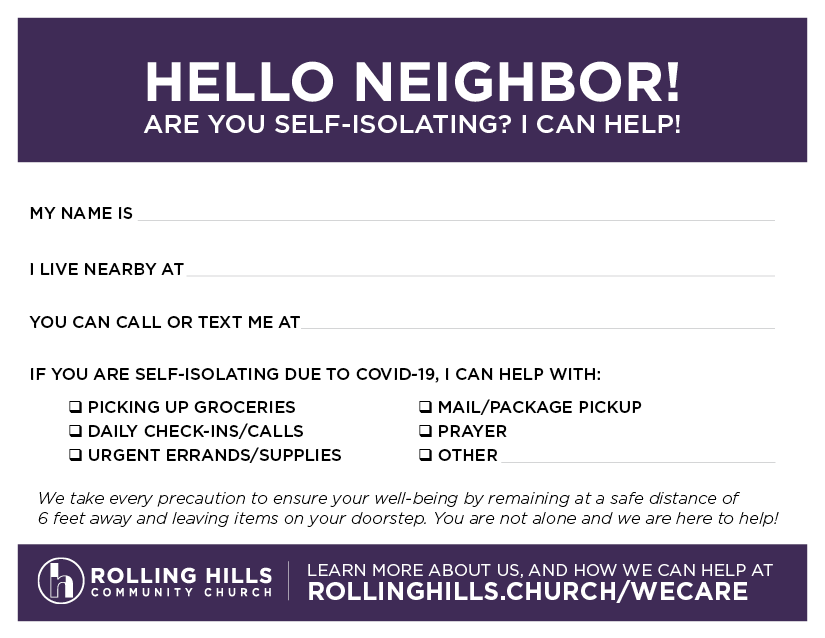 ---

Prayer does not fit us for the greater work; prayer is the greater work.
Prayer is a core value here at Rolling Hills. We believe prayer is an important part of each day, but we are especially sensitive to our need for prayer in times of crisis, like the one we find ourselves in today. 1 Thessalonians 5:17 says to, "pray continually" and we are committing as a church to do just that.
For the entire month of April, we invite you to join together as the Body of Christ and commit to praying continually... 24 hours a day for 30 days. We've created a signup form where you can claim a 30-minute block of time to pray for our friends, neighbors, leaders, front line workers and those around the world being affected by this terrible virus. Feel free to select multiple times. If you have a regular daily prayer time, this may be a good opportunity to jump on and commit to spending your time in prayer with us. There is power in prayer and we believe in this time, it's of the utmost importance.
Oswald Chambers once said, "Prayer does not fit us for the greater work; prayer is the greater work." and we believe it's true. This virus has taken away so much of our normal life, but in return, it has given us back quiet time. There is no greater way we can think to spend that extra tie than in prayer to the One God who we trust is in control of it all.
Click the link below and join us in our 24/30 challenge - One church banding together 24 hours a day, for 30 days.
---
SUPPORT OUR
LOCAL MINISTRY PARTNERS
CHECK OUT THE LINKS BELOW TO HELP OUR LOCAL MINISTRY PARTNERS!
GraceWorks The Bridge Shower Up Nashville Rescue Mission Path Project