One of the most asked questions during this time is,
HOW CAN I HELP?
Below is a list of opportunities you can participate in as we continue to
Reach Out, Grow Up and Give All
in our homes, neighborhoods, and throughout our city.
LEARN MORE ABOUT
Love. everyone. always. summer challengE BLOOD DRIVENEIGHBOR CARD LOCAL MINISTRY PARTNERS
---

THIS SUMMER
WE HAVE A CHALLENGE FOR YOU!
LET'S LOVE THOSE AROUND US
AND LIVE OUT THE GOSPEL.
Below is a list of practical ways for all of us to dedicate our summer to "Loving Everyone Always"! We will have a specific focus each week. Check back here for updates and new ways to Love. Everyone. Always.
God is ready to use us to build His kingdom!
Are you ready?
---
There are extreme blood shortages due to the COVID-19 outbreak. We are doing all we can to help respond to this need.

We are partnering with Blood Assurance to host a few blood drives. All are welcome to donate!
Blood Assurance has instituted additional precautions that comply with the CDC guidelines for the safety of the donor and the Blood Assurance team. You can read about those precautions HERE.
Currently, we don't have a new blood drive scheduled but we are working on that! Check back here for updates.
---

We've got a saying at Rolling Hills - Love. Everyone. Always. In times like these, it's even more important to let others know we care. Below is a card you can print at home and use to show your neighbors you love them. Simply print, fill in your information and drop them on a neighbors door. As always, we want to take every precaution to keep you and our community safe. Please follow all CDC guidelines if you think you may be sick and #StayHome.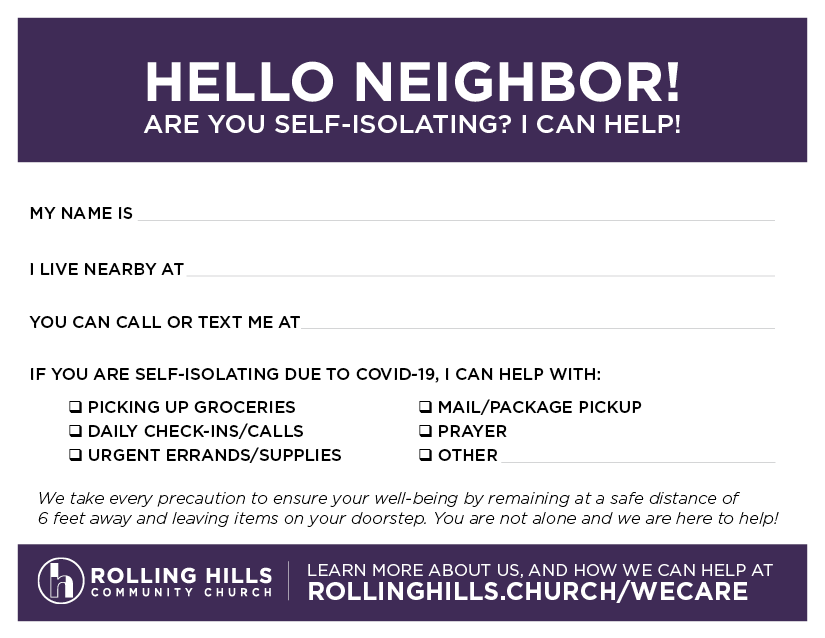 ---
SUPPORT OUR
LOCAL MINISTRY PARTNERS
CHECK OUT THE LINKS BELOW TO HELP OUR LOCAL MINISTRY PARTNERS!
GraceWorks The Bridge Shower Up Nashville Rescue Mission Path Project One Generation Away