Estate Planning Seminar
Monday, May 01, 2023, 6:00 PM - 7:30 PM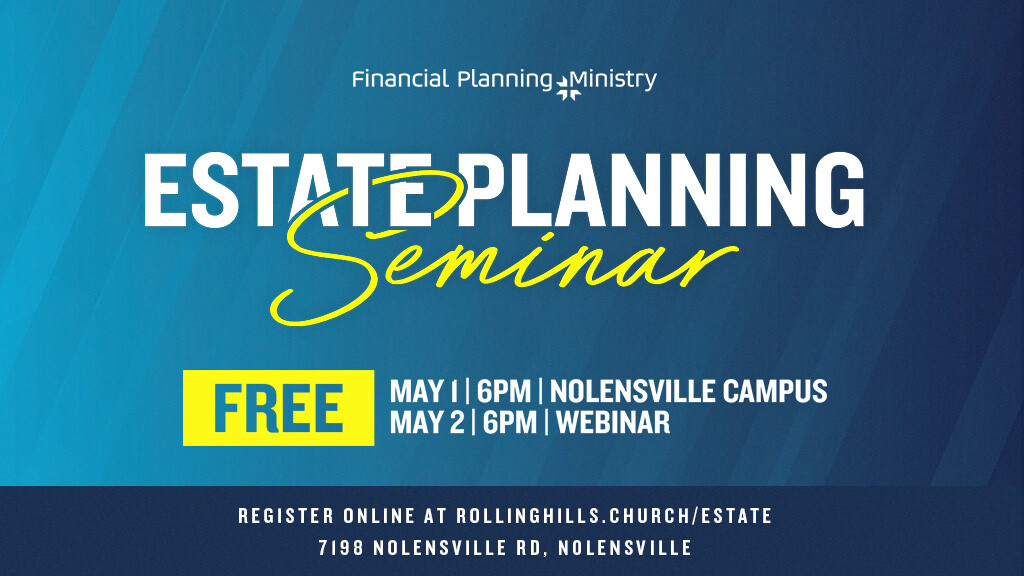 As Christ-followers, we are meant to be stewards of the blessings that God has given us, and we want to equip you with the tools that you need to do just that.

Nationally-acclaimed Financial Planning Ministries will be leading us in a FREE in-person Estate Seminar on Monday, May 1 from 6-7:30pm. They'll be focusing on how to best plan your estate and will be providing an overview of ways you can plan your finances now to leave a legacy that will impact generations. They'll also have a Q&A time when you can ask questions to learn more about how estate planning and legacy giving applies to your age and stage of life. Following the seminar, you will have the opportunity to create or update your estate papers for free. This service is typically $1,500-$3,000 and will be available to you completely free as a ministry to you following the seminar.

Can't make it on May 1, or prefer to tune in virtually? No problem! They're also holding a FREE Estate Planning Webinar on Tuesday, May 2 from 6-7:30pm. This webinar will be online and will cover the same content on planning your estate and leaving a legacy.
Let's make 2023 the year that we get healthy financially – for the sake of ourselves, our families, and the Kingdom.
Register:
IN-PERSON | MAY 1WEBINAR | MAY 2