Midweek Groups Care Groups More Opportunities
WEDNESDAY NIGHT GROUPS
STARTS MARCH 23
7-Weeks | 6-7:30 PM
1810 Columbia Ave, Franklin, TN 37064
We are excited to announce we are offering short-term (seven-weeks) discipleship classes for adults starting March 23! During these seven weeks, there will be childcare for preschool and programming for kids, middle school, and high school.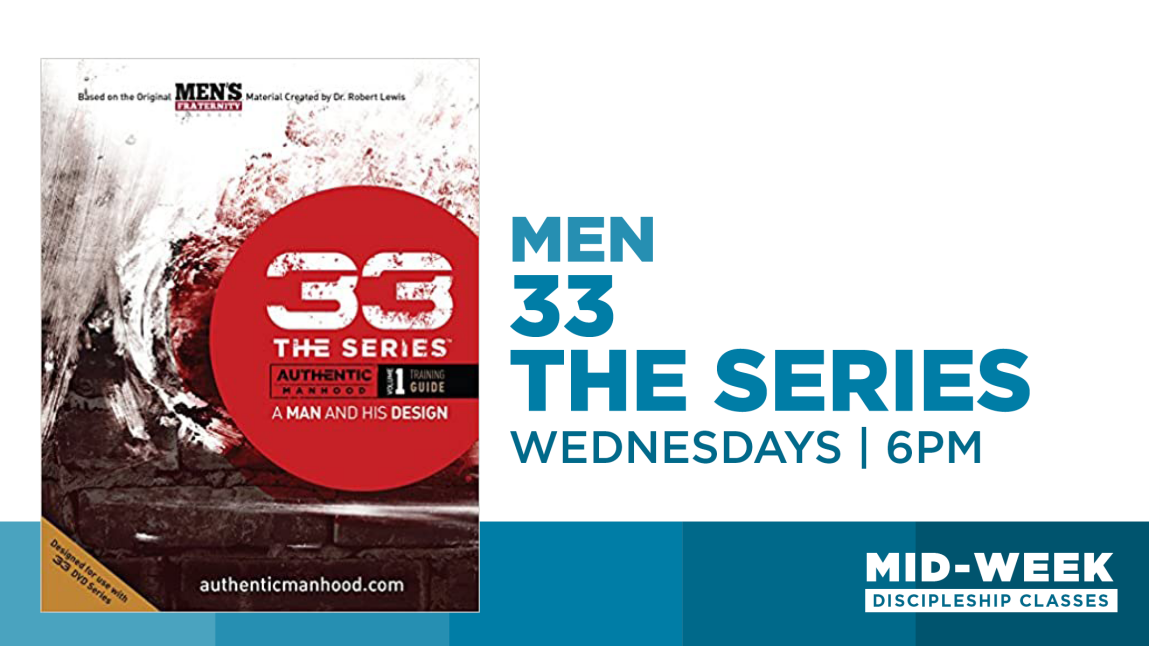 DISCIPLESHIP • MEN • CLASS • WEDNESDAY
33 THE SERIES
7-Weeks
Leader: Jason Hitchings
33 The Series: A Man and His Design - Training Guide is a 6 session Bible study that builds upon many of the timeless truths taught by Robert Lewis in the original Men's Fraternity curriculum but also includes new material on authentic manhood. The series is designed to inspire and equip men to pursue authentic manhood as modeled by Jesus Christ in His 33 years on earth. Volume I contains six sessions that explore the basic foundations of authentic manhood and God's clear design for men.
This first volume of 33 starts with meaningful insights into the current state of manhood, which will help men navigate through some realities that have created cultural confusion. It follows by unfolding God's mandates for all men and offering a clear definition of authentic manhood that will help men on their journey. Each participant will learn the four "faces" of manhood and how to anticipate and transition through the specific seasons of life
---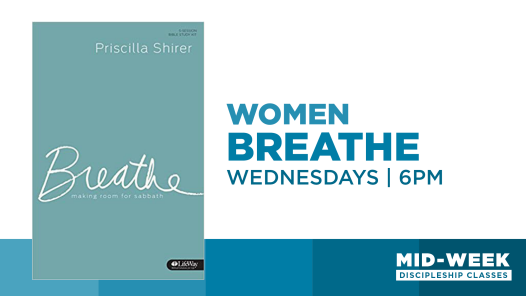 DISCIPLESHIP • WOMEN • CLASS • WEDNESDAY
BREATHE BY PRISCILLA SHIRER
MARCH 23-MAY 4 | 6PM | THE LOFT | $20 REGISTRATION FEE
FREE CHILDCARE FOR PRE-K AND UNDER (BUT MUST REGISTER)
One of the greatest challenges among women in our culture is taking time to cease from all the activities and just breathe. We are in bondage to busyness. We constantly strive to complete the limitless to-do lists that hinder us from experiencing all that God has for us. By neglecting time for tranquility, serenity, and repose, we limit our Christlikeness and miss out on some of God's greatest gifts. In the Old Testament, Sabbath was given to the Israelites as a gift, and it is still a gift to us today. If you are weary, worn out, and exhausted, then the concept of Sabbath will change your life.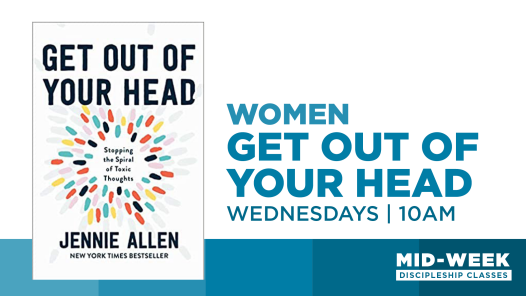 DISCIPLESHIP • WOMEN • CLASS • WEDNESDAY
GET OUT OF YOUR HEAD BY JENNIE ALLEN
March 23-MAY 4 | 10AM | STUDENT AUDITORIUM | $25 REGISTRATION FEE
CHILDCARE OPTIONS | $35 ONE CHILD or $70 TWO+ CHILDREN
Are your thoughts holding you captive? I'll never be good enough. Other people have better lives than I do. God couldn't really love me. Jennie Allen knows what it's like to swirl in a spiral of destructive thoughts, but she also knows we don't have to stay stuck in toxic thinking patterns.

As she discovered in her own life, God built a way for us to escape that downward spiral. Freedom comes when we refuse to be victims to our thoughts and realize we have already been equipped with power from God to fight and win the war for our minds.

In Get Out of Your Head, Jennie inspires and equips us to transform our emotions, our outlook, and even our circumstances by taking control of our thoughts. Our enemy is determined to get in our heads to make us feel helpless, overwhelmed, and incapable of making a difference for the kingdom of God. But when we submit our minds to Christ, the promises and goodness of God flood our lives in remarkable ways.
---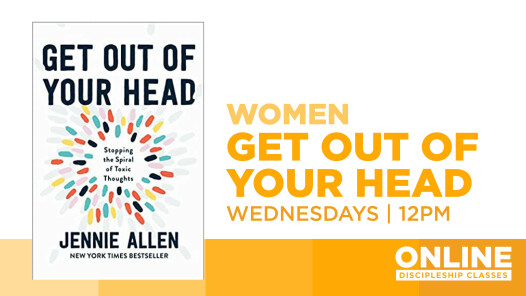 DISCIPLESHIP • WOMEN • ONLINE CLASS • WEDNESDAY
GET OUT OF YOUR HEAD BY JENNIE ALLEN
MARCH 23-MAY 4 | 12PM | ONLINE
GET OUT OF YOUR HEAD BY JENNIE ALLEN
We're launching our first-ever RH Women's Online Bible Study, and, ladies, you're invited to join us! We're launching on Wednesday, March 23, and will be going through Jennie Allen's "Get Out of Your Head" study. Whether you're a part of our Online Campus, can't make our in-person Bible study times, or you simply prefer being a part of on online group, all are welcome here!
Here's how it's going to work:
We have a Facebook Group created exclusively for the women who are joining this study. In the Facebook Group, we will connect with one another, share links and other content, post interactive questions and takeaways from the study, and more! Within the Facebook Group, we'll share how to access Jennie Allen's Bible study videos through RightNow Media that you will watch each week (before Wednesday). Each Wednesday at 12pm, starting on March 23, we'll post a Zoom link where those who are a part of the study will hop on, discuss the study, and build community with one another. Throughout the week, we'll check in through the Facebook Group and stay connected, too. To be a part of the study, the Zoom Group is not mandatory, so feel free to join us for both the Facebook Group and the Zoom, or one and not the other!

Simple Four-Step Instructions & You're Ready:
We can't wait to start this study with you!