PrimeTime Fall Retreat
Wednesday, November 09, 2022 - Friday, November 11, 2022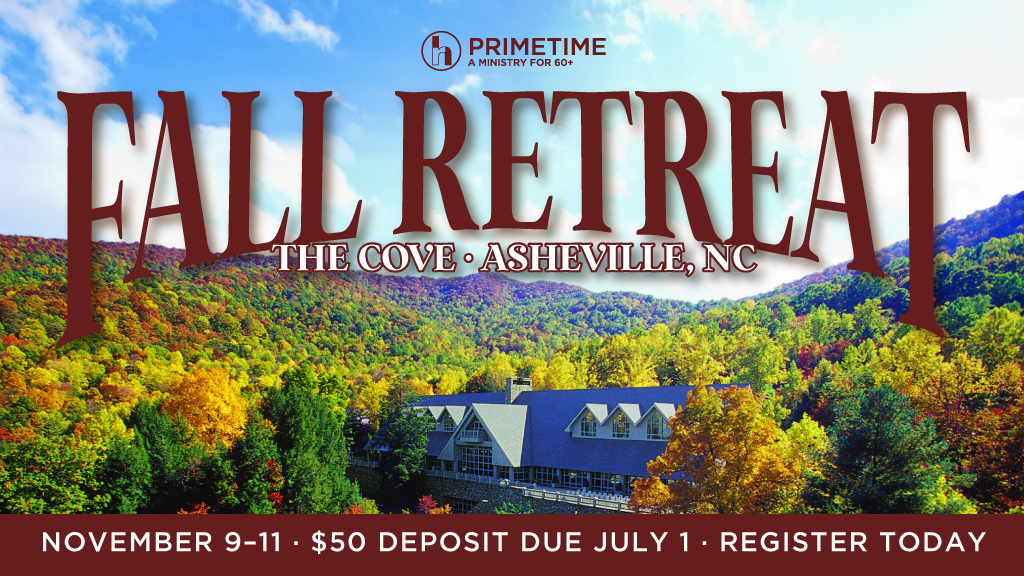 We're heading to The Cove in beautiful Asheville, NC, which is the Billy Graham Training Center in November. This is a two-night, three-day stay where we will hear from Dr. Jerry Vines on The Miracles of Jesus.

Dates: November 9 - 11
Where: Asheville, NC
Lodging: Hotel accommodations are on the property - two queen beds to a room.
Study: Miracle Man: The Selected Miracles of Jesus with teaching by Dr. Jerry Vines, a pastor for over 60 years.

Cost:
Attending and traveling on your own is $335 per person.
*That's with two people in a room and includes lodging, the conference, and five meals. Food going and coming and any extra activities, like The Biltmore or meals in Black Mountain, are on your own. The Cove is busy this time of year, so there wasn't the option to stay an extra night.

Attending and traveling with the church is $385 per person.
*Same as above with transportation included.
Only a few spots remain and registration closes on October 2. Contact Laura Chapman for additional details.